Sunshine Tender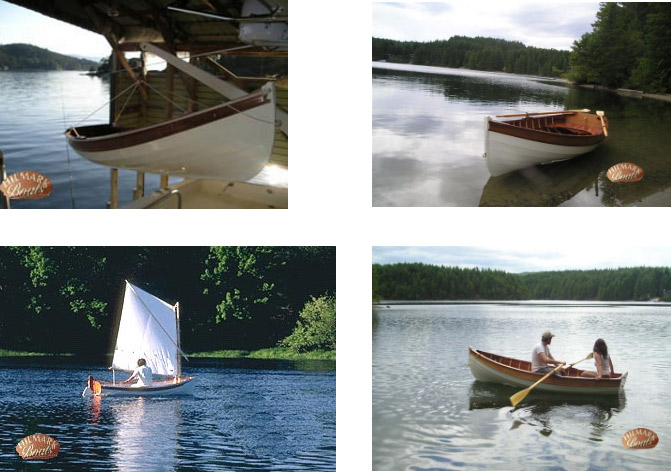 Sunshine seems to be everyone's all-time favorite. The original boat was built about 1915, and there
is no way to improve on her. She is what yacht tenders are supposed to be-you can dump nearly any
load into her and she'll still row easily and will track at the end of the painter without yawing or running
down on the towing vessel in a following sea.

More than a tender, she's a great little solo boat, easy and fun to sail.This is Lapwing on launching
day. She's 10'-6" overall, and as you can see, sprit rigged. Her primary function is as a tender for a
Dark Harbor 21 andshe frequents the waters of Penobscot Bay (Maine).

Those that use them as tenders find that they receive as much use as the boats they accompany,

Because after the primary boat is anchored for the night the owners use them to go off gunkholing.
Their size makes them appealing, their lines insure their versatility, and the lapstrake construction makes them practical
The largest of the wherries, with her balanced ketch rig she is a superb sailer (plan for the alternate sloop rig is included). She can be built simply and left open, or fancy with teak deck and oval cockpit. She is one of the loveliest small craft ever designed.

Hilmark Boats is pleased to offer the Sunshine Tender.