---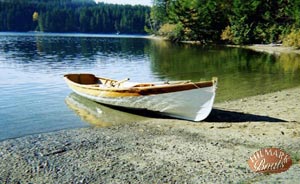 Tyee Rowboat
The Tyee boat, as it is known in Campbell River BC, Canada, was developed from a lapstrake design wooden boat that has been built on the west coast of Ireland for centuries.

Our oars are available in 6 foot to 8'6" lengths. Other lengths available through special order. Classic clinker built Tyee wooden row boats are 14' 3" long and have one or two rowing stations. These custom wooden boats are designed to allow one rower and two fishers to troll for large tyee / king
salmon. The hull provides stability in the sea swells but the Tyee is also a welcome sport boat on fresh water lakes in British Columbia, Alberta, Ontario, Nebraska, Minnesota, Alaska and wherever the sport of fishing is enjoyed.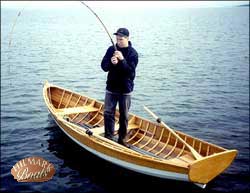 These round bilge lapstrake boats have a deep keel and curved up hull at the stern. They weigh in at only 170 to 200 pounds depending on wood selection -a design that works wonderfully in sea swells and permits superb control by the rower, especially with a large Salmon, Northern Pike or Muskee hooked on your line.

Hilmark Tyee wooden row boats are custom made by hand in Campbell River, British Columbia, Canada. You can order your wood boat finished or unfinished .All boats include handmade leather bound Spoon oars and oar locks along with a few other unique extras. If your tyee row boat is unfinished subtract $3000.00 CDN from the price. If you want to supply your own Oars, hardware, metal keel strips, oar sleeves and horns we will subtract their cost off the price of your new boat.